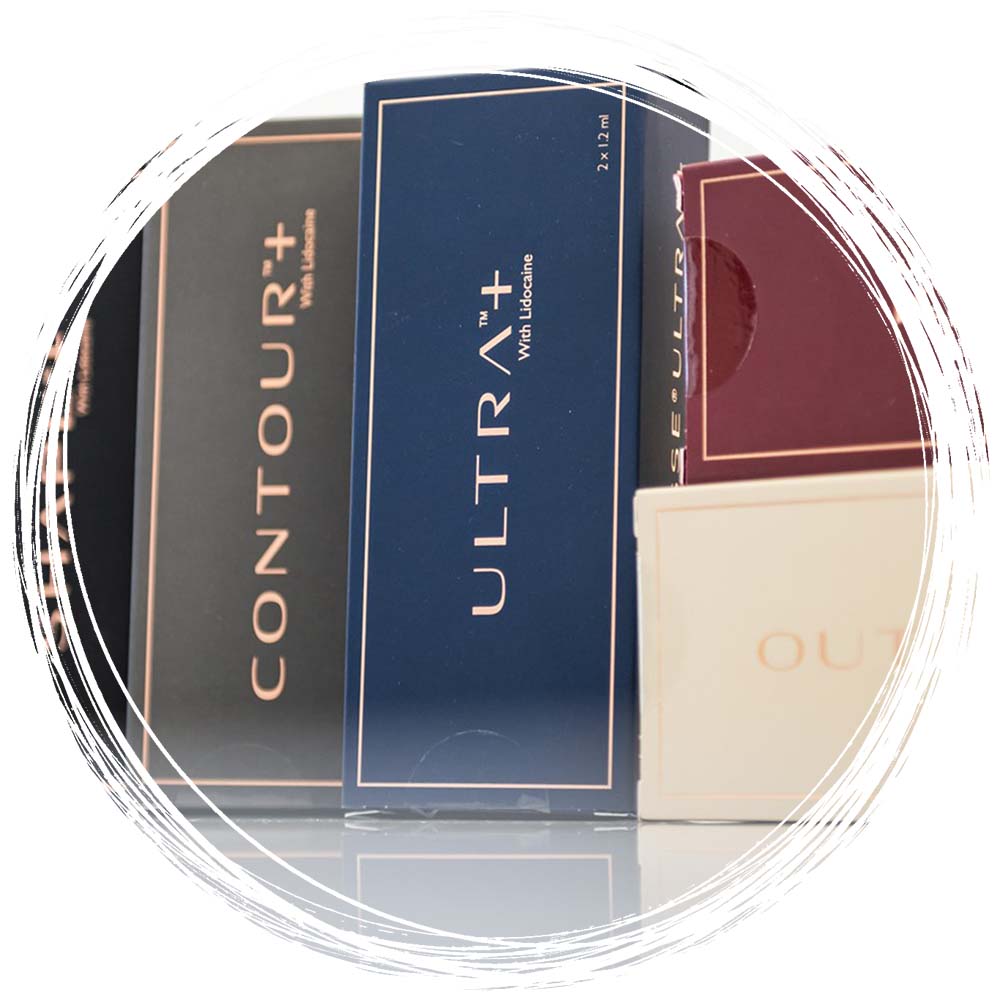 Dermal Fillers
Dermal fillers are a great minimally invasive, non-surgical solution to add volume to the face and help restore skin to its youthful appearance. Facial contouring with dermal fillers can enhance and define the natural angles, outlines and facial structure to give a fresher, streamlined look and to beautify facial features.
What are Dermal Fillers?
Dermal fillers are formulated with synthetic hyaluronic acid, also known as HA. HA is a substance that naturally occurs in your body, and it helps keep your skin healthy by:
Delivering essential nutrients
Hydrating skin by maintaining moisture
Softening skin
Volumizing your skin
This is a non-surgical, minimally invasive method to reduce the appearance of unwanted lines and wrinkles by restoring lost volume to the skin. It can also be used to add volume to lips.
What Types of Dermal Fillers are Available?
There are different formulas of this safe, effective injectable treatment to address a variety of concerns and areas. Some of the options we offer include Revanesse, Radiesse, Restylane, Teoxane, Juvederm
A consultation with our team will help you determine which formula could best treat your area of concern.
What Areas Do Dermal Fillers Treat?
Some of the areas that are most often treated with Dermal Filler include:
Smile lines (nasolabial folds)
Lips
Cheeks
Chin
Marionette lines
Jawlines
Nose
Temples
Under Eye Hollows
Cellulite
Box Scarring
Specialty Treatments
Lips by Design
Lip injections are fast becoming the preferred way of achieving plumper and more luscious looking lips. Whether you are looking for a subtle difference or dramatic change we provide you with the latest international injection techniques sure to give you the perfect pout you desire.
Jawline by Design
A sharp, well-defined jawline is an incredibly attractive masculine feature. By carefully and precisely adding volume to the chin and jawline, we can create the appearance of a stronger and more masculine jawline for our male clientele.
Non-Surgical Rhinoplasty
Injectable rhinoplasty is a non-surgical approach to reshaping the nose. In essence, injectable dermal fillers are injected under the skin of the nose to provide volume and re-contour the shape. Injection rhinoplasty allows a person to change the shape of the nose while completely avoiding surgery and scars.
Top Model Cheeks
Top Model Cheekbones is a treatment performed with precise dermal filler injections to create higher, more prominent cheekbones. Dermal fillers work by adding volume, structure, and support to enhance your cheekbones. Your face will look lifted, more contoured, and refreshed within a matter of minutes.
Under Eye Filler
Under Eye Hollows are volume loss under the eye area creating a tired appearance. Hollows can get more noticeable as the skin loses volume with age and lifestyle factors like lack of sleep. This non-surgical solution rejuvenates and plumps the under-eye area and improves the appearance of dark circles.
BOOK NOW
Facts
---
What could I expect from a procedure?
Dermal Fillers are a non-surgical, minimally invasive treatment performed as an outpatient procedure in the comfort of our luxury medical oasis. This injectable treatment can provide results that last up to a year, but the results will vary for each patient, treatment area, and maintenance.
Some formulas in the collection include a pain-reducing lidocaine. This allows for more natural pain or discomfort management during treatment.
Am I a good candidate?
Our team can help you determine if this is the best treatment to help you achieve your cosmetic goals. Achieving and maintaining the best results may require additional treatments, and a consultation with our team will help you develop a treatment plan as well as decide which formula will best benefit you.
Before and After