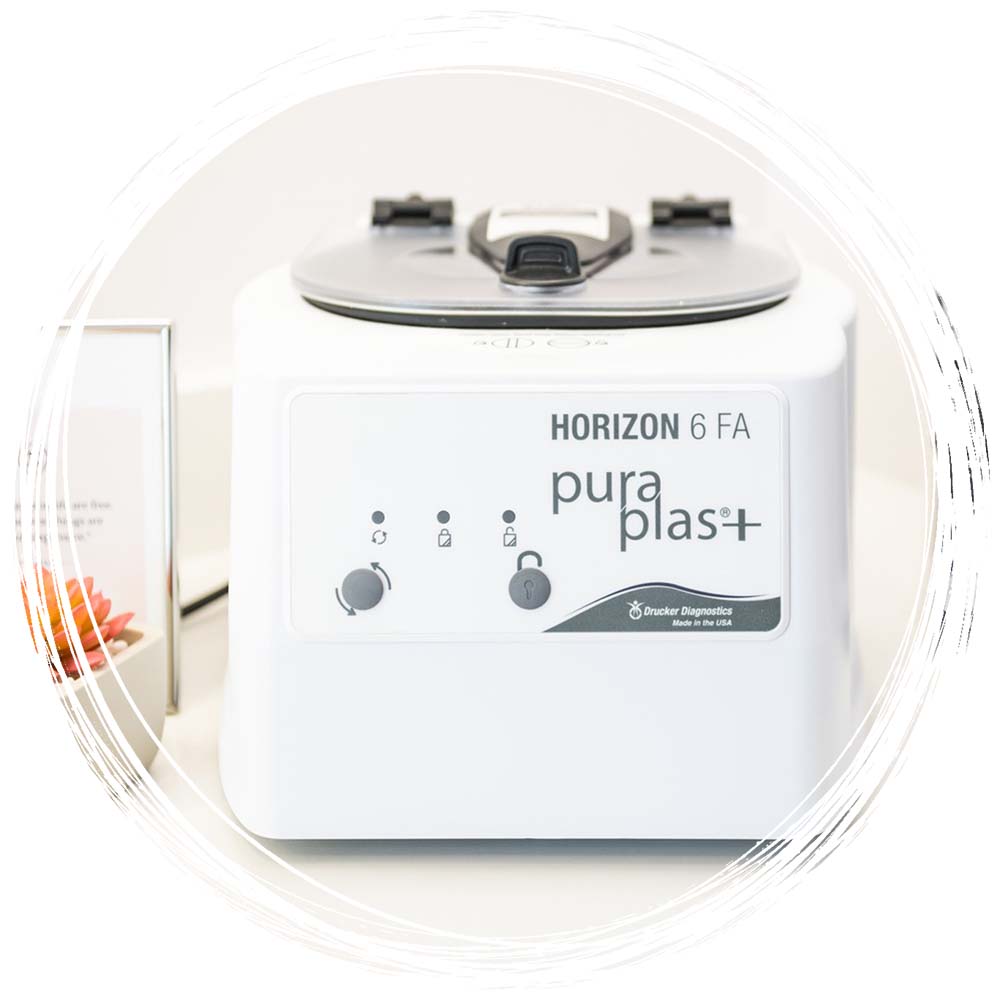 PRP Facial
Platelet-Rich Plasma therapy is a non-surgical procedure that can be used to treat acne scars, surgical scars, hyperpigmentation issues, uneven and dull skin tone, fine lines and wrinkles. Plasma is a component of blood which is full of healing and growth factors. When PRP is introduced back into the skin, the growth factors stimulate collagen-producing cells and new blood vessel formation resulting in skin looking refreshed and rejuvenated.
The PRP Facial can help you look healthier, feel more confident and glow with agelessness.
If you want to achieve a healthier more radiant look, contact our Century Derma Lounge team today! Set up a consultation and and prepare yourself for a second chance at glowing vibrant skin!
Are any of these your problem areas? A PRP Facial could benefit you!
Scarring due to acne.
Discoloration in skin pigment.
Dark circles, crow's feet, fine lines.
Crepe-like skin in the areas of the neck, chest, and eyes.
What Are the Benefits of PRP Therapy?
Brighter and smoother skin tone.
Helps to restore lost volume.
Reduction in fine lines and wrinkles.
Virtually no downtime is needed.
As your own plasma (extracted from your own blood) is used, it is a relatively safe technique with little chance of reaction to the plasma. This means it is the ideal procedure for anyone who feels worried about injecting foreign substances into their body.
Who Are the Ideal Candidates for PRP Therapy?
This treatment is suitable for all patients who are not pregnant or breastfeeding and is cleared and safe to be used on ALL skin types including light and darker skin tones.
PRP will improve skin quality and smooth fine lines of the face, hands and neck area. Patients will notice an improvement in puffiness and darkness under the eyes. Overall, the skin will appear more youthful, tighter, and with an improved skin tone. PRP treatment is ideal for individuals that are searching for a natural improvement in their appearance.
How Is PRP Therapy Performed?
Firstly, blood is taken from the patient; it is then centrifuged to separate out the plasma. Plasma is a component of blood which is full of healing and growth factors This plasma is then injected into your skin using an injection device. The injection device is used to penetrate the skin and introduce your own repair cells into the dermis to induce repair. The technique of injecting PRP is virtually painless with the use of the injection device and the whole treatment takes about an hour.
BOOK NOW
Facts
---
How Many Treatments Will I Need?
The recommended protocol for optimal results is 3-4 sessions at 4-6week intervals. After these treatments are complete, some patients may require maintenance therapy once or twice a year. Patients who smoke or have a lot of sun damage will require more treatments.


What Are the Side Effects?
As your own plasma is used, it is a relatively safe procedure with little chance of reaction to the plasma. However, it is possible that a person may have irritation, pain, or bleeding related to the injection site.